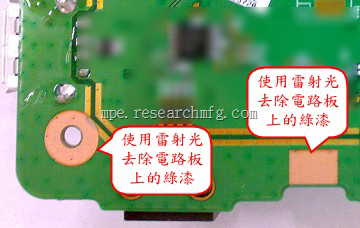 Did you ever met a trouble need to rework to remove the solder mask from the PCB? If yes then how you did?
We usually remove the solder mask manually by knife or hand grinding tool. But these kinds of rework always damaged and broke the traces on the PCB and result in high scrap rate for PCB or PCB Assembly.
Today WorkingBear will introduce you a new method to remove the solder mask by laser machine. It is high efficiency and high reliability. If the laser power select property then it will only remove the solder mask and without damage cooper under the solder mask.
Actually my company had never did this kind of PCB rework quite a long time. Unfortunately, new top manager ask to reduce the design phase and roll in the product to mass production from 9 months to 6 moths. Make design quickly will need to pay something. There are about 10K pcs of the PCB need to be reworked to remove the solder mask to improve the ESD issue.