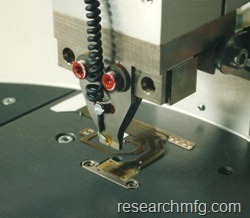 The HotBar soldering is a kind of selective soldering solution where connect two pre-fluxed, solder coated parts by pulse heating element, call a "thermode", with proper temperature to melt the solder and re-solder.
Applying a pressure and contacting on the soldering target is necessary to melt the solder and insure that components stay in place during cooling.
The regular HotBar reflow process is to pre-print the solder paste on the PCB then go SMT reflow to make the solder on the PCB. After that then stick the FPC on the board and melt the solder again through thermode to connect the FPC on PC board. It may need to apply the flux on the solder since original flux had gone during high temperature of reflow oven.
In order to mount FPC on PCB, a thermal-conductor inside FPC to transfer heat from thermode to PCB to melt the printed solder on PCB is necessary.